1. Open the view "Button for XX temperature regulator notification assembly".
2.
a. Right-click on view list -> add -> view for control instance
b. Find the supervisor of XX temperature regulator notification-> actual rec-> condition.
c. Double-click and select "PD_15375 - Show Condition without auto state".
d. Set "Disable hit test". We will not open the default window for this data type.
3. Open the graphic editor and drag the condition view to where you want.
Your view should look like this: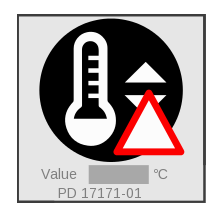 A supervisor can now control our temperature regulator, but it can still run on its own. Further, the component can show its condition (step 3), so let's explore this before we move on.