« Back to Glossary Index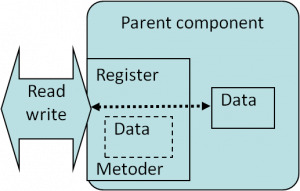 Register is the standard Register subcomponent, implementing the methods Set and Get. A register gives access to the variable related to it, through the Set and Get methods.
Notation for accessing a register is the same as used to access variables. For example "My_register:= 27" will call the registers Set method, which will store the value "27" in the variable related to the register.
Normally a register is given a separate softwire number. A standard COPP component can exhibit up to 16 registers, each having their own softwire number. If there are more than 16 registers within a component, the remaining registers must be accessed through the relevant Set/Get methods.
« Back to Glossary Index