Your component should be able to view and change the set-point and to view the current temperature.
1. Open your control component "XX_Temperature_regulator_simple".

2. Right-click and pick "create new view for this type based on" PD_11813 - Comp_view".
3. Rename the view to "Window_for_XX-temperature_regulator_simple".
4. Choose type constants, view_region, bottomRight and set y to 50[mm] and x to 100[mm].
5. Save your view.
6. Open your graphical editor by pressing the "Show view"-icon seen to the right. It is just above the VIGO6-navigation tree and looks like a boy. You now see your empty view.
7.
a. Right-click on the view list and pick "add"- "view for control instance".
b. Click on the plus sign next to " XX_temperature_regulator_simple".
c. Pick register "Setpoint".
d. Select view PD_2159 - Number_name_value_unit.
8. On your view, you now see the element and you can drag it where you want on the screen.
9. Add a similar view for register "Actual temperature".
Your view should look like this: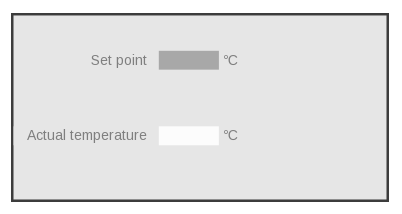 Congratulations. Finally, you have created your control component with control logic and a view. You can use it again and again.